Restricted to Full Licence - $140
CBTA Assessment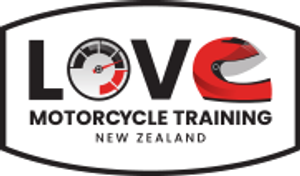 Once you have a Restricted Motorcycle Licence, you can move up to a Full Licence (without waiting for 18 months) in only 12 months by completing this assessment.
(Some conditions apply, CONTACT US for more information).
About the assessment:
The CBTA Assessment, including briefing and a debrief takes about 1.5 hours and covers around 28 kilometres. You are followed by an NZTA qualified instructor/assessor whilst being continually assessed against set criteria.
It covers most of the riding situations you could expect to encounter, including urban riding, interacting with traffic, motorway and rural riding, so it's important to know how to deal with these differing situations.
Love Motorcycle Training provide heavily subsidised training courses through the RIDE FOREVER training programme with courses starting at as little as $20.
We strongly recommend the completion of a SILVER Ride ForeverCourse ($50) PRIOR to sitting the Restricted TO FULL CBTA Assessment.
View the details of the SILVER course by clicking HERE or browse and book a course by going straight to the CALENDAR.
What you need to have:
A valid New Zealand Restricted Motorcycle Licence (Class 6R) which does not expire before you sit the CBTA Full Assessment.
A fully road-worthy LAMS approved motorcycle. Road-worthy includes but not limited to; correctly inflated tyres, all lights working, fuel in the tank and current Registration and WOF.
A legal helmet and ideally protective motorcycle clothing, including jacket gloves and pants.
If you don't have a bike, or are struggling for gear, we can hire you a late model motorcycle and a helmet, jacket and gloves for the duration of your training and also your subsequent CBTA assessment.
CONTACT US to ask your question and find out more.
After the CBTA assessment:
Your riding performance is discussed, and you will be provided with specific feedback designed to encourage continuing skills development, which may (or may not) include the recommendation that you undertake further training.
Having successfully completed the CBTA Assessment, you are then issued with a pass certificate which you exchange for a Full Motorcycle Licence at one of the NZ Licensing Agents such as the AA or VTNZ as long as more than 12 months have elapsed since the issue date of your Restricted Licence.
There is an additional cost which you will need to pay at the licensing agent.
Book your Restricted to Full Licence CBTA Assessment by browsing availability in our CALENDAR or CONTACT US if you would like to combine both a SILVER course with the Full CBTA Assessment.